You may be wondering why I don't post as much as I used to. The reason is that I do a lot of writing now and it keeps me busy. I post over on my writing blog more often than I do here. But, I'm still here, I haven't left. I'm just hiding behind my computer and big stacks of books!
You may know that I write a children's column in a regional magazine called,
Two-Lane Livin'
. I finally finished a project that I have been working on for a very long time. I compiled my articles into book form and had it published!
Included with the articles are easy recipes, poems, crafts, activities and stories for kids. The book is approximately 150 pages long.
Fun Through the Seasons! Recipes, Crafts and Fun Facts for Kids
. . . is hot off the presses!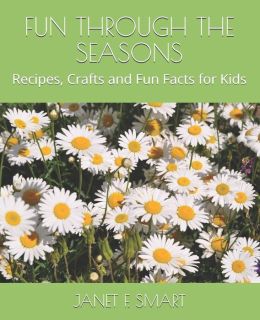 My first shiny, honest to goodness book.
Here is the description of it on Amazon:
In Fun Through the Seasons, Janet goes month by month through the seasons with informative articles for children to read and enjoy. The articles appeared in her column, Fun Facts for Kids, in Two-Lane Livin' Magazine. While reading this book, kids will learn all about snowflakes, Independence Day, genealogy, ants, the first Thanksgiving, collecting memories at Christmas, cookies - and much more! Sprinkled among the interesting articles are easy recipes, crafts, poems and challenges for kids in K through 5th grade. Parents will enjoy reading the stories to the younger ones and helping with the activities.
I have been working on putting together this book for a long time. Each time another month came and went, I had another article to add. I also added a few more easy recipes, stories and poems. The pictures and clip art are grayscale, but perfect for your child to add their own touch to the book by coloring in with colored pencils.
I did it all myself (with help from my son with the cover), learning along the way. It was a lot of work, but I loved every minute of it and I hope the children who own a copy of it will enjoy reading it as much as I enjoyed writing it. I love writing for kids!
You can get a copy at
Amazon
or
Barnes and Noble
or from me (wvsmarties@yahoo.com.) The ones I send out will be autographed and have a handmade bookmark with them. My price is $10 + $2.50 for postage and handling (continental US only).
Happy summer everyone! It has been a long and hard winter that didn't want to let go. But, I think warm weather is finally here to stay and I welcome it.